The lowdown: This 12 Rules For Life summary gives an insight to clear and consistent principles that everyone can live by, drawing on philosophy, psychology, history and myth.
While most of the time we are happy and living our best life, there are times where… well, life is a bit shit.
Throughout the years, humans have given advice on how to deal with the good and bad times, usually in the form of stories and fables.
These old stores, along with the works of ancient philosophers are still read today because we want that advice and way to give our lives meaning.
12 Rules For Life gives itself the big task of giving a dozen rules for people living in a modern society.
However, I am giving myself the even harder task by only selecting three main takeaways!
SALE
12 Rules for Life: An Antidote to Chaos
Audible Audiobook
Jordan B. Peterson (Author) – Jordan B. Peterson (Narrator)
English (Publication Language)
01/23/2018 (Publication Date) – Random House Canada (Publisher)
Obviously, there are 12 Rules for Life in the book, but the three I felt are most important are:
Care for yourself with the same tenderness you would a loved one
Conversations are an opportunity to learn and grow, not compete
The wrong companions drag you down, so choose your friends wisely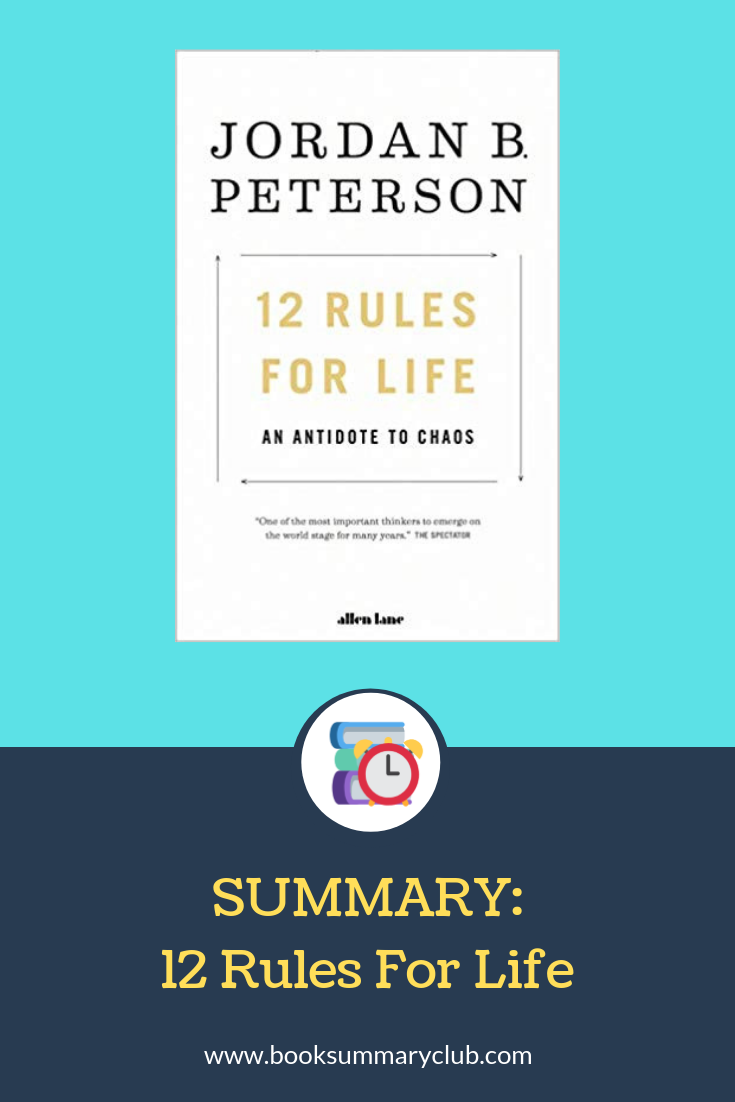 Lesson One: Care for yourself with the same tenderness you would a loved one
For most people, you punish yourself too often and are far too hard on yourself.
By nature, we see our flaws more than we see the flaws of others. This leads to a feeling of occasional self-loathing and a habit of punishing ourselves.
This feeling of self-punishment and self-loathing goes all the way back to the story of Adam and Eve, where following the suggestions of the snake showed the dark side of humans, and how easily persuaded people can be.
However, much like the Eastern symbol of the ying-yang, we all have a light side and a dark side. Rather than punish yourself for the dark, try to strike a balance between the two.
Because, at the end of the day, you can't be perfectly good… the parent who protects their child from everything that is harmfull introduces a closed mindset and too much order.
So, do what you like, but also what is best for you. And remember, don't be too hard on yourself.
Lesson Two: Conversations are an opportunity to learn and grow, not compete
Always enter a conversation as if you have something to learn.
Socrates is still regarded as one of the wisest people to ever walk the earth and he lived his life with the attitude of one that knows nothing.
You can't get the same perspective by simply thinking things over. It is impossible for you to fully represent both sides of an issue in your head, so it is vital that you learn of others.
That is one of the reasons why we have conversations; we converse so we can learn and grow.
However, how many conversations have you been in that have turned into some dick measuring contest where everybody tries to one-up each other?
A conversation isn't a contest with a winner and a loser, a conversation is a way we can all learn.
Instead, look to listen and then summarize the other person's thoughts, not just wait to speak.
Lesson Three: The wrong companions drag you down, so choose your friends wisely
This one is simple. They say that you are the average of the five people you spend the most time with.
I'm sure we all have those friends who, over time, we have grown apart from.
Sometimes it is just drifting apart, but sometimes you realize that those friends who used to be full of potential are not resentful and drag others down around them.
That is why it is so important to choose your friends wisely, then can elevate you or drag you along for the ride.
My Personal Takeaway
This book is basically 12 ways not to be a dick and we all need that from time to time.
Put it into action
Look to improve all the time. Don't compare yourself to others, but compare yourself to what you've done in the past. Ask yourself "what can I do today that would be better than yesterday?"
You should consider buying this book if…
Honestly, this book is a great read for everyone. However, if you're interested in philosophy or old stores, then you'll get an extra kick out of this book.