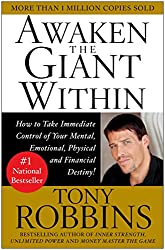 Awaken the Giant Within is a self-improvement book packed with tons of ideas on how you can master your inner being and attain your destiny. Everyone has that one unique thing they are supposed to contribute to the universe. That thing is your destiny, and until you figure it out, you will not achieve your full potential.
But not to worry, Anthony Robbins presents easy to follow concepts that you can use to harness your own psychology. Here is the Awaken, the Giant Within summary that will highlight some of the teachings in each of the chapters.
PART 1: UNLEASH YOUR POWER
DREAMS OF DESTINY – everyone has a destiny they were meant to fulfill. This chapter helps you to find your destiny and to lay out a plan to achieve the dreams of your destiny. To achieve what is set out before you then you must change your life to align with your dreams. There are three steps in which to do that; raise your standards, change your limiting belief and change your strategy.
DECISIONS: THE PATHWAY TO POWER – to achieve your dreams you need to seize the moment. Make decisions that will give back the power of your life. "You see, ten years from now, you will surely arrive. The question is: Where? Who will you have become? How will you live? What will you contribute? Now is the time to design the next ten years of your life—not once they're over."
THE FORCE THAT SHAPES YOUR LIFE – this chapter is all about pain and pleasure, the forces that shape life. Associate good things with pleasure and bad ones with pain to stay on the right track.
BELIEF SYSTEMS – the beliefs you have about yourself have the power to create and the power to destroy. Change your belief systems and be positive about your abilities.
CAN CHANGE HAPPEN IN AN INSTANT? – In this chapter, you learn how to achieve lasting and consistent change. To create lasting change, you have to; believe that something must change, believe that you must change it and believe that you are capable of changing it.
OF NEURO-ASSOCIATIVE CONDITIONING – "The beginning of a habit is like an invisible thread, but every time we repeat the act we strengthen the strand, add to it another filament, until it becomes a great cable and binds us irrevocably, thought and act." That is the power of neuro-associative conditioning
HOW TO GET WHAT YOU REALLY WANT – if you know what you really want in life it becomes easy to achieve it. After that, learn how to access your most resourceful states. When you are in a resourceful state, you can accomplish anything you put your mind to.
QUESTIONS ARE THE ANSWER – questions determine your thought process. It is essential to learn to ask the right questions so you can get the answers that really matter.
THE VOCABULARY OF ULTIMATE SUCCESS – words have power over our lives. If you keep saying you hate something you will ultimately come to hate it. You need to change your internal monologue to be that of positivity and success. Use words to shape your life and destiny.
THE POWER OF LIFE METAPHORS – metaphors create new associations in your mind, and therefore they are a way to learn. Change your global metaphors from negative ones to positive ones.
THE TEN EMOTIONS OF POWER – this chapter is all about dealing with emotions. People deal with emotions through avoidance, denial, competition and learning and using. Learning and using is the only way to make emotions work for you not against you.
CREATING A COMPELLING FUTURE – your life should be directed by goals and to be motivated every day you must keep your goals potent. Goals take you into a world without limits which defines your future.
THE TEN-DAY MENTAL CHALLENGE – the challenge he poses here is; for the next ten days, beginning immediately, commit to taking full control of all your mental and emotional faculties by deciding right now that you will not indulge in or dwell on any unresourceful thoughts or emotions for ten consecutive days. This challenge marks the end of part one of the book.
Part 2: TAKING CONTROL: THE MASTER SYSTEM
ULTIMATE INFLUENCE: YOUR MASTER SYSTEM – different things are important to different people and therefore people evaluate things differently based on what is important to them. To succeed you need to have superior and practical evaluations of every aspect of your life.
LIFE VALUES: YOUR PERSONAL COMPASS – for success to become yours and to attain your destiny then you must live a life guided by values. You must choose to be consistent with the values no matter what happens.
RULES: IF YOU'RE NOT HAPPY, HERE'S WHY! – Rules are the trigger for the pain or pleasure you feel in your life. It is vital that you set rules that are appropriate in defining success, so you do not live your life in fear and thinking about failure all the time.
REFERENCES: THE FABRIC OF LIFE –"Man's mind stretched to a new idea never goes back to its original dimensions." To grow you need to keep stretching your mind by learning new ideas.
IDENTITY: THE KEY TO EXPANSION – to achieve your level best you need to find your identity. Robbins states that "Your capability is constant, but how much of it you use depends upon the identity you have for yourself."
PART 3: THE SEVEN DAYS TO SHAPE YOUR LIFE
This part of the book is practice to help you change aspects of your life that will shape your destiny. The practice topics on part three are;
EMOTIONAL DESTINY: THE ONLY TRUE SUCCESS – DAY ONE
PHYSICAL DESTINY: PRISON OF PAIN OR PALACE OF PLEASURE DAY TWO
RELATIONSHIP DESTINY: THE PLACE TO SHARE AND CARE -DAY THREE
FINANCIAL DESTINY: SMALL STEPS TO A SMALL (OR LARGE) FORTUNE – DAY FOUR
MASTER YOUR TIME AND YOUR LIFE – DAY SIX
REST AND PLAY: EVEN GOD TOOK ONE DAY OFF! DAY SEVEN
THE ULTIMATE CHALLENGE: WHAT ONE PERSON CAN DO
What I Like About The Book
I like that this book is highly detailed. It will take you through everything that you need to know to find yourself and shape your destiny. The book is well explained and well written. There are challenges and practices within the book to help you practice the concepts described and adopt the concepts in your life.
Why You Should Read The Book
You should read this book to find your true calling and tap deep within yourself to achieve what you have been set out to achieve. This book will bring you real change in all the aspects of your life.