It seems like every week there's another excellent book or two to add to your to-read list…
If you're anything like me, then you probably don't have enough hours in the day to get through them all. And, to be honest, the way we interact with different media has changed so much in recent years.
So, to help combat the sheer amount of content out there, the need for new ways to consume a book has arisen.
🚀 TLDR? A Quick Summary of This (long) Article
So, What's The Best Book Summary App?
I reviewed every summary app in this post – and even though there are alternatives to Blinkist, I still believe its the king of summary apps.
What Are The Best Alternatives To Blinkist?
If you tried already tried Blinkist and decided its not for you – I would suggest you read the full post, or give Instaread a try which is the second best option. If you still feel its not for you, getAbstract is also a good option.
Can I Read Book Summaries For Free?
Yep! And BookSummaryClub is one of the best sites in this field. Check out our 140+ Free Book Summaries on or site. Otherwise Blinkist also have a 7 day free trial that costs nothing.
Still have questions? Keep on reading 😊

In line with nonfiction books having another resurgence, book summary websites and apps have become all the rage over the past few years. Everyone is interested in up-skilling themselves.
Yet, the time investment needed actually to sit down and read a book can be somewhat inefficient, especially if you only take in a few main points.
This article is going to talk about the best book summary apps and sites, along with a few of the others who offer free summaries like we do here.
I'm impatient: What is the best book summary website?
If you're impatient and don't want to read until the end, my pick for the best book summary website is Blinkist. 
I use Blinkist every day and suggest it for business owners or anyone interested in self-development. Read our extended and updated Blinkist review or try Blinkist yourself for 7 days, completely free.
Best Book Summary Sites: Our List of Blinkist competitors
We'll discuss the best of the best when it comes to free and paid book summary websites.
What you'll find is that it is unlikely that there is an all-around best service. Instead, you'll have to find the type of service you're most interested in.
| Swipe left for full table 👉 | What we like | What could be improved | Price | Learn More |
| --- | --- | --- | --- | --- |
| Blinkist | Great for nonfiction books | Only offers nonfiction books | $89 a year, with a free trial | Try Blinkist for free |
| Instaread | Includes summaries of fiction books, and 'Instaread originals' | Inconsistent quality and not as many titles as competitors | $7.99 a month | Try Instaread for free |
| ReadingGraphics | Infographics + Audio + Text formats. Awesome! | Not as user friendly as competition | Range of prices starting at $5.80 per month | Subscribe to ReadingGraphics |
I use Blinkist every day and think it is a great service. However, I would be naive to blindly believe that the service I prefer is the best for everyone.
In this article, I'll go through some Blinkist alternatives to find the best Blinkist alternative for you.
The best book summary app – Blinkist
How good is Blinkist?
Like I mentioned earlier, I'm an avid user of Blinkist and recommend it to anyone looking for nonfiction book summaries.
Blinkist offers over 3,000 book summaries, and there are more coming on every day.
They offer a range of options on how to read. With a desktop version and a phone app.
You can also read on your Kindle, or listen to the audio version of their summaries.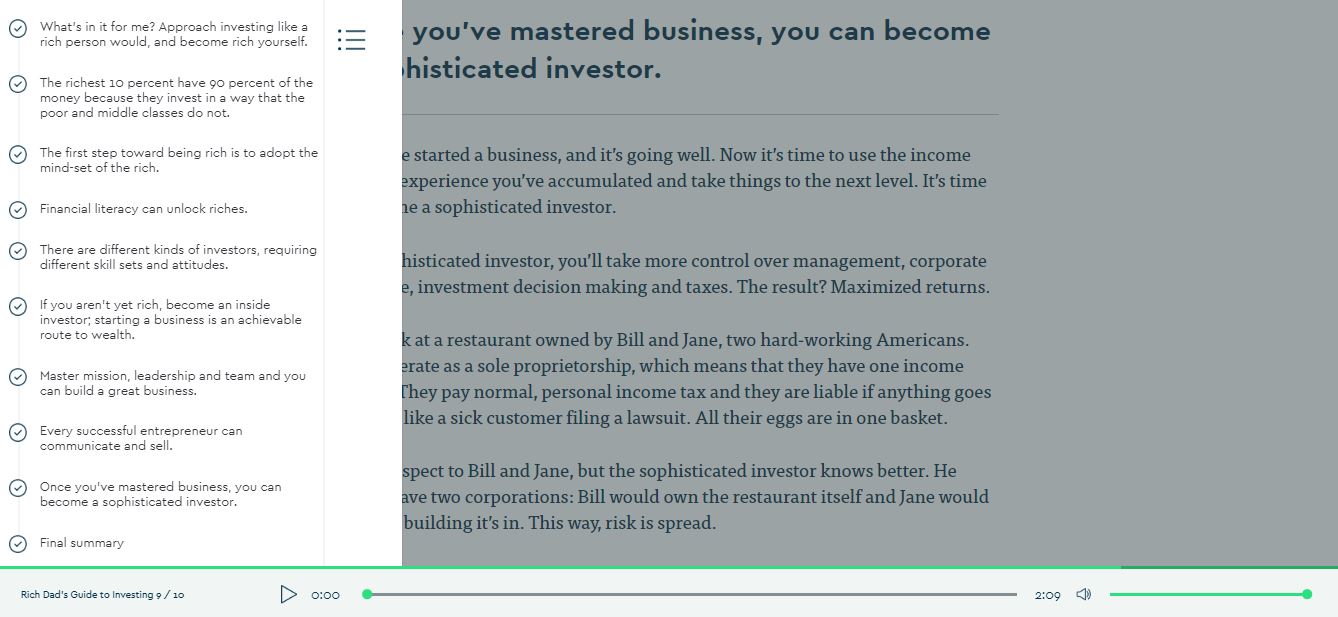 You can try Blinkist for free and cancel at any time. If you want to learn more about Blinkist, read our review.
Best Paid Blinkist Alternatives
If You've had a look at Blinkist and it isn't your thing, that is okay. Here you'll find our best alternatives to Blinkist (both free and paid), which you may like.
Best Blinkist alternative -getAbstract
When it comes to different book summary services, getAbstract is one with a rich history and which should probably be considered one of the main competitors of Blinkist.
The platform has been going strong since 1999 and now offers over 20,000 text and audio summaries.
While they mostly target larger businesses and offer plans for companies to use, their individual plans are also great if you're buying for one.
getAbstract uses a tested layout for summaries that maximizes your retention of knowledge.
Which, seeing they've been in the business for over twenty years, they've had time to test and see what works best.

Actually, one thing that getAbstract offers that Blinkist doesn't is the ability to print PDF versions of the summaries.
In regards to pricing, getAbstract isn't over the top either.
Their basic plan is $99, which gets you over 5,000 summaries.
You'll be looking to pay more for the pro plans, which includes downloads and audio playlists.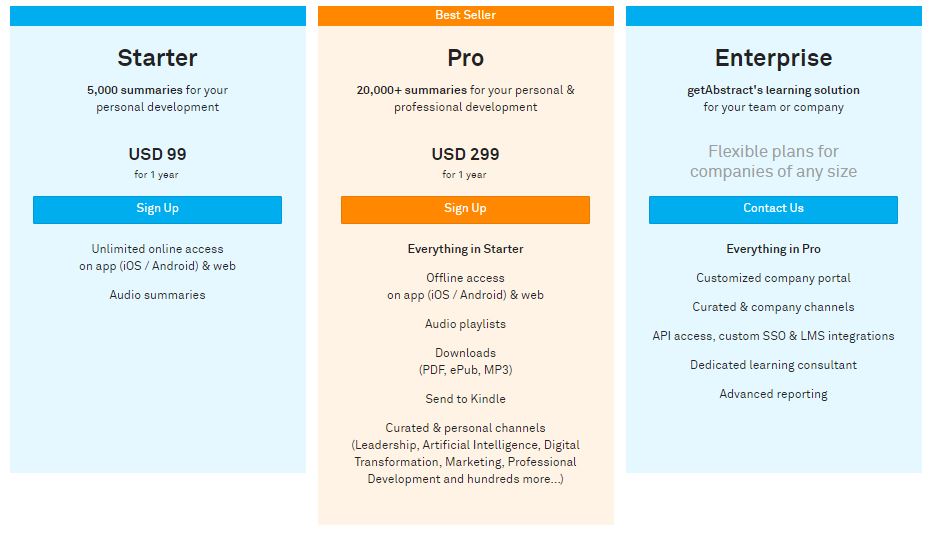 GetAbstract also offers enterprize plans for businesses, so if you're looking to purchase a plan for a group, you can do that easily.
getAbstract also offer free training on their YouTube channel, which is pretty cool.
If you're solely looking at business books for your team, then getAbstract is an excellent choice.
If you want to learn more about getAbstract, see our comparison with Blinkist. 
Best for people looking for a variety of genres – Instaread
If Blinkist isn't your thing, Instaread is an excellent alternative. Instaread, like Blinkist, offers fifteen-minute book summaries of nonfiction books and is in direct competition with Blinkist.

However, Instaread also offers a few things that Blinkist doesn't:
Instaread Originals: Original titles from the team
Access to articles from publications like the New York Times Magazine
A more extensive range of non-business related genres including fiction books
I use Instaread more and more these days. While they don't have the catalog of books like their more established competitors, they are growing their library quickly.
You can try Instaread for free or read our review for more information.
Best for people who don't want a subscription- Amazon
Most of these paid services are subscription-based, which is perfect if you're looking to use the service at least once a week.
However, what if you're just interested in the odd book summary?
You'll find that
Amazon has a vast selection of book summaries
on offer.
Most book summaries on Amazon are around the $2.99 price range, so if you buy under two or three every month, you'll save money compared to a subscription service.
The most significant negative, like any Kindle book, is quality control.
However, if you stick to one of the more reputable publishers, you'll be fine. In fact, you could say these individual summaries aren't a direct competitor to Blinkist.
I also use individual book summaries to make sure I want to read the entire book before I commit to purchasing it.
To me, spending $2.99 on a kindle summary is more than worth it in order to make sure you don't waste $20 and ten hours on the full book you don't enjoy.
You can get the Kindle app on your phone or tablet, but I suggest trying a Kindle reader. You can even buy readers that come with Kindle Unlimited.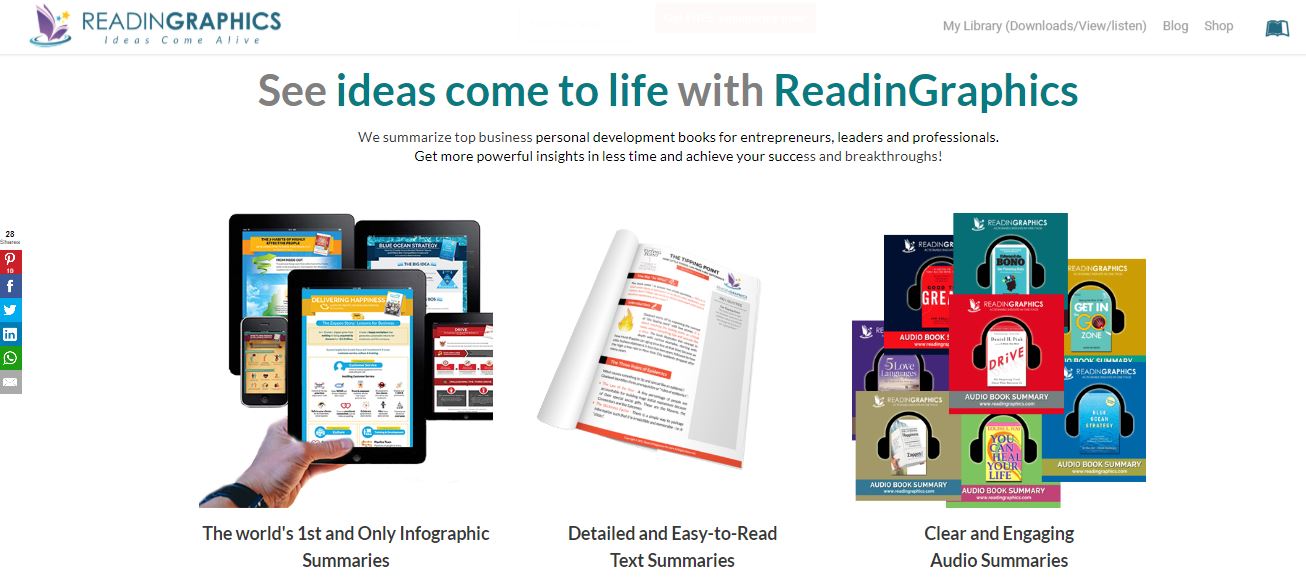 Best for visual learners – Reading Graphics
Reading Graphics offers something that none of the other book summary websites have. Infographic summaries! This is a really cool alternative to Blinkist, and a nice twist to concept of learning from summaries. I think it is really awesome that Reading Graphics put up their service and tries to compete with Blinkist by having another approach to summarizing books.
Along with their audio summaries and easy-read ten-page written summaries, Reading Graphics offers great infographics that give a visual representation of the book's key lessons.
While the infographics by themselves are a little too basic on their own, they offer the
perfect at-a-glance reminder
that combines with the written and audio summaries that come with
Reading Graphics
.
You can sign up to Reading Graphics and get two summaries for free.
While they may not have over 3,000 books like Blinkist, they do offer massive discounts on their subscriptions, which is a win.
Best for students and teachers – CliffsNotes
Ahh, the OG of book summary websites!
Cliffsnotes claims to be the most imitated summary site, and I wouldn't disagree. Based at school students and teachers, Cliffnotes offers excellent online summaries of books for free.
The free content should have enough information to get you started with any text you're studying.
If you want to dive further into a book or school subject, their paid study guides are first class.
Cliffnotes are the best solution if you're studying a text, especially a fiction text.

Best for actionable advice – (flash)books
(flash)books is a book summary site by Dean Bohari which focuses on actionable advice that can be implemented in your life immediately . Dean is a speaker and writer, but also hosts a podcast where the ins and outs of how to live a successful and meaningful life are discussed. (flash)books have a big library of summaries which are crafted by Dean after each of his reads, similar to how I do it here at BookSummaryClub.
SumizeIt – A new summary service
SumizeIt is a fairly new book summary service that recently have gained lot of traction because of their awesome services and neat interface. Moreover, they provide an app for both Android and iOS so you can expand your knowledge anywhere. Indeed a worthy competitor that provides a neater interface than many of the more established companies. Kudos!
Pros and cons of paid sites
✔️ You do get what you pay for. If you're someone who wants to learn faster (Blinkist) or a team wanting to achieve more at work (Get Abstract), you can achieve that quickly.
✔️ More book titles and usually better summaries.
✔️ With the paid options, you typically find that there is more regular content as a team is writing the reviews.
✔️ Paid apps usually include an audio version and other bells and whistles. ❌ Sometimes a little too niched down
❌ You may not want to pay a subscription fee.
Best Free Book Summary Websites
There are also some quality free blogs to subscribe to for excellent book summaries.
Note: I'm not going to talk about the Book Summary Club here for a couple of reasons:
I don't feel like talking about myself (it's awkward…)
You're already here, so if you want to read the blog, you're more than welcome.
So, with that in mind, here are free book summary websites that offer some great reading.
Four Minute Books
Four Minute Books is a site that offers four-minute summaries of books and has been doing so since 2016.
They have a vast collection of titles and are constantly updating, with around about three new reviews every week.
What started as a one-man show has increased to a small team at Four Minute Books, and they now have a few writers giving some quality content.
Samuel Thomas Davies
On Sam Thomas Davies' personal site, he, similar to this site and Four Minute Books, offers a range of non-fiction book summaries for those who want to learn on the go.
Fueled by a love of learning, his weekly emails are always a welcome addition to my inbox.
Book Video Club (YouTube)
The Book Video Club is a great little blog and a YouTube channel that offers short summaries of books.
The site is basically a content marketing tool for BoardStudios, a company that offers explainer videos and content marketing videos for businesses.
Regardless, their videos are pretty sweet.
The Journey (YouTube)
This YouTube channel is pretty badass. Looking through their channel, it is clear that book summaries used to be a staple of their content strategy, but now The Journey is far more diverse.
The channel now covers different ways of thinking, sometimes with a book as the catalyst for conversation.
Pros and Cons of Free Sites
✔️ Um, they're free… so that's always a massive win
✔️ There is usually a free weekly email summary
❌ Won't release content as often as paid options
❌ A limited choice of books
❌ As the site is free to use, there are often ads or other ways they make a profit
Other book summary sites which compete with Blinkist,GetAbstract and Instaread
Not quite at the level of the best-of lists above, these are services that you may have seen around.
12min
12min offer short book summaries for entrepreneurs and business owners.
They have been popping up everywhere online, with Huggington Post and Entrepreneur Magazine throwing Facebook ads my way promoting them.
While the concept is fresh, it is incredibly similar to what Blinkist offers, even with a similar target audience.
The only problem is that Blinkist has a more enormous selection of titles, better summaries, and a bunch of other great add-ons that 12min doesn't.
To me, if you're looking at signing up for 12min, you may as well use Blinkist.
Scribd
Scribd is marketed as the Netflix of books, with a low monthly price getting you unlimited audiobooks, eBooks, book summaries and more.
The platform is a reasonable price, even though there allegedly are some misleading marketing messages, as discussed in the Scribd review.
However, if you're just in the market for book summaries, there are better options than Scribd.
Mentorbox
Mentorbox is another platform that is advertising everywhere. Partially from the mind of Tai Lopez, Mentorbox offers book summaries presented by the authors, which is a really cool concept.
I won't go too far into my thoughts on Mentorbox, as you can read my detailed review or see how it compares to Blinkist.
Ultimately, Mentobox has the potential to be one of the better services on the market, but the $7 membership level is basically used as a platform to fire upsells at you.
Personally, I think there are better book summary websites on the market.
Best book summary app: Our verdict
Blinkist is still my number one choice for a paid book summary website.
However, if it isn't your thing, platforms like Instaread and getAbstract are great Blinkist alternatives.
Free sites are always a good start, but at the end of the day, you get what you pay for.
While the free book summary websites are great, the paid sites are a level above. Nonfiction book summaries are a growing market and there's going to be more and more Blinkist competitors entering the market, so it is important to choose a platform you like.