When it comes to reading, I use to believe that people either love it or hate it. As time passes though, I think there is so much more to it than just love or hate. Often, it's a matter of time. Most people understand the importance of reading books but they just can't fit it into their busy schedules. 
But, have you ever enviously wondered how some people learn how to love reading and books? They have the ability to complete book after book and expand their knowledge and libraries endlessly. What makes them different? How did they learn to love reading?
In this article, we take a look at the different ways you can enjoy reading more and fall in love with books again.
1. How to fall in love with books
Start Small
There is no need to set yourself an impossible task. In order to enjoy reading more, you have to embrace it at your own pace. Just like any falling in love book says; you can't rush it! 
Choose a book based on your interests
Make time to read
Set a goal of reading a few pages a day
Don't beat yourself up if you miss a day here and there
You don't have to compete with your friends who are voracious readers and recommend a new book every week! This is your personal journey. 
In order to learn how to love reading, you have to first make time to read. 
Find the time in your day whether it be whilst you are on the train to work, waiting in a queue or maybe even instead of watching television. Some find it easier to read at night before going to bed but that does not work for everyone as some people begin to associate books with sleep! If you turn out to be the latter, find yourself a reading nook, it will help keep you focused and your distractions minimal.
Ultimately, it is up to you to figure out what keeps you motivated and engaged.
2. How to enjoy reading 
Find the right book
Start reading a book that genuinely interests you. There are many different genres of books out there and some that we are not even familiar with. 
Don't jump straight into a book that you think you should read for work or because it's on the bestseller list. Choose something that you know will keep you engaged; it will help you enjoy reading more as you start this journey. If you fall in love with the book, you might begin to automatically find yourself falling in love with reading.
Try Book Summaries
Other than the time factor, sometimes we get put off reading with the price of books. We're not entirely sure if we are going to like the book or whether it's going to seem like a waste of money at the end of the day. 
Luckily for us, there are book summary websites that can be used to gauge our interest in a book before purchase. 
These sites offer detailed summaries and key lessons from different genres of books. It's an excellent option for judging whether a book is worth your time and money. In addition, by reading book summaries you have the added benefit of gaining huge amounts of knowledge in a fraction of the time it would take you to read the entire book. 
3. Alternative methods to learn to love reading and fall in love with books
Join a book club
Depending on your personality, you might fight reading more enjoyable if you make it a social thing. There are many benefits to joining a book club. 
Motivation to finish a book
A break away from a busy life
Exposure to different people and different viewpoints
Friendship
New people and new books
Meeting someone who loves to read at a book club could be what you need to fall in love with books. The intellectual stimulation of being surrounded by readers can be exactly what you need to unlock your love for reading. 
Try Audiobooks
Sometimes, audiobooks offer the best time-saving option for reading a book. This "hands-free" option is easily available and has quickly taken over the world by allowing listeners to maximise their time.
Here are some pros and cons to audiobooks:
| Pros | Cons |
| --- | --- |
| You can multitask | You have to own a compatible device |
| Narrators can make the book enjoyable | Narrators can make the book less enjoyable if monotonous |
| Beneficial for people with vision challenges or reading impairments  | Speed of narration – you might spend more time listening to an audiobook than it would take for you to read. |
| Easier to learn the pronunciation of words | Dependant on the battery life of your device |
How to love reading E-books
E-books also provide an easier alternative to carrying a book around with you everywhere you go. 
The benefits of e-books are listed below:
Multiple books can be stored on a single device
Instant access after purchase
Font is adjustable for readers
Shareable content
Environment friendly – no pages
In fact, you can try out the Blinkist app which gives you access to book summaries, e-books and audiobook options.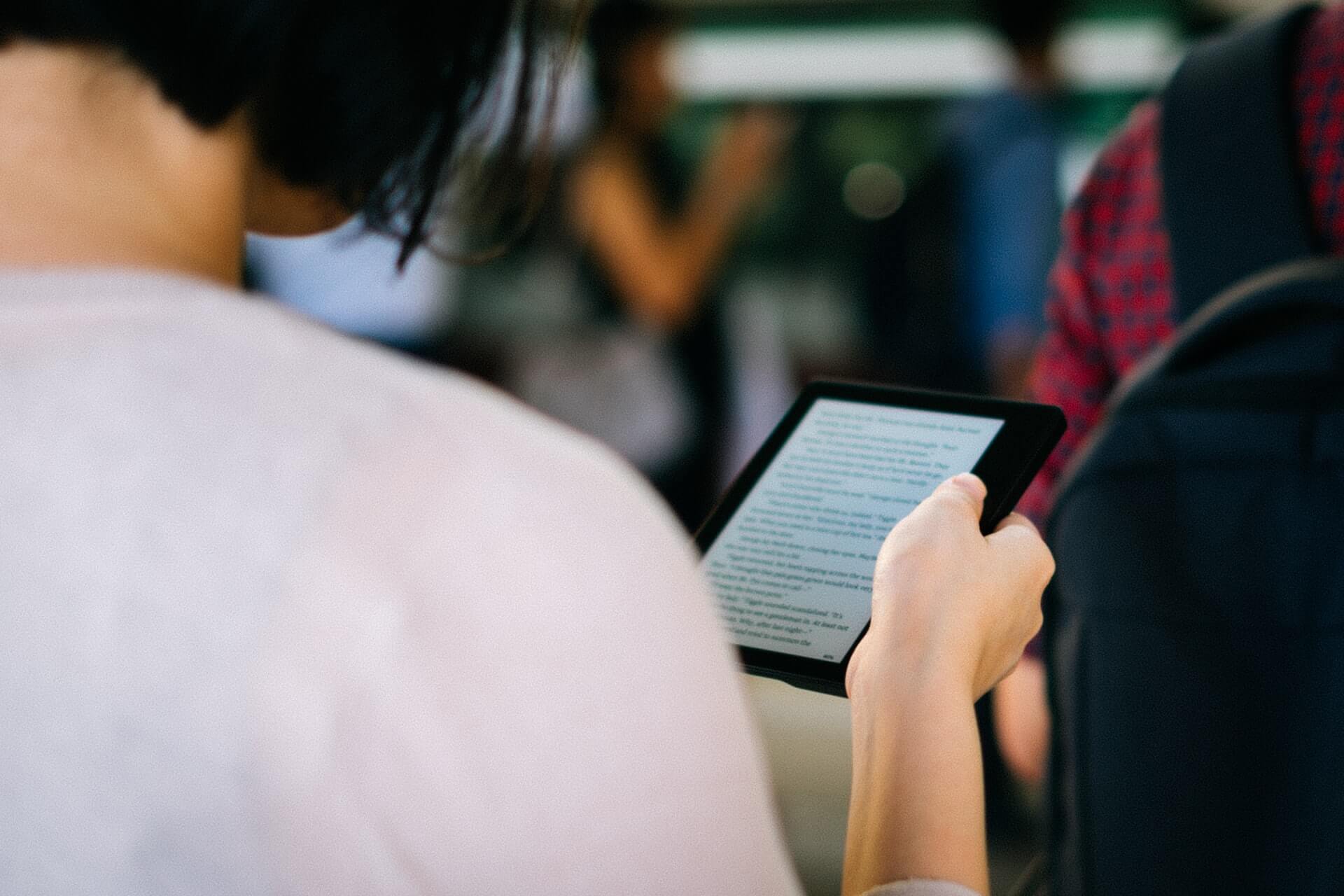 In conclusion, the one thing to remember is if you're not feeling it, it's okay to move on. An important lesson to learn is that there's no use in torturing yourself into finishing a book that you do not find enjoyable or useful. Just put it down and move on to the next book. You can come back to it at a later stage if you feel the need to try again; and if still can't make it through it, it's okay.
There's nothing wrong with reading more than one book at a time. In fact, you might find that it might keep you stimulated and motivate you to read more. It all comes down to which method helps you fall in love with books and works best for you and your lifestyle.