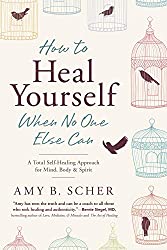 For several years the case of Lyme disease that Amy was suffering was misdiagnosed. She had received many treatments that almost took her life before it was diagnosed correctly. Even after the proper diagnosis, she went through a lot of suffering from the treatments. She had to take over 40 pills every day and injections to heal from the disease.
How to Heal Yourself When No One Else Can is the success story of how she was able to heal herself by summoning her inner energy finally. Through her suffering and in her hunger to overcome, Amy discovered that what made her ill was more than just her physical body. It was also about her mind and spirit.
In this How to Heal Yourself When No One Else Can summary we outline the three-part process that she describes in her book that will allow you to get the equilibrium between your body, mind, and spirit.
Part 1: Surrender, Accept and Flow – to be able to heal then you have to surrender and accept your situation you are in. Surrendering in this context does not mean giving up. It means that you agree to be in that situation, so you stop wasting your energy fighting the truth.
Surrendering puts your mind at ease and makes it easy to accept the situation you are in at that particular moment. When that happens, then your journey to healing begins.
"While it's a very human reaction, when facing challenges, to immediately find a way to escape them or hurry through them, there is immense importance in being in the place you most want to run from. Surrender does not mean giving up; it's merely releasing the energy of struggle and deciding to heal instead of fight.
Being where you are is incredibly vital because it, too, is part of your healing. You are not here, in this place, to find that perfect doctor who will reconstruct your body and extract all of the bad feelings you have. You are here to talk to your soul. You are here to practice being kind to yourself, no matter where you are. You are here to transform your life into the enjoyable experience it is meant to be."
After you have surrendered and accepted, then you are able to create a solid foundation for your healing work to start. This is because now your body is not experiencing that constant- fighting energy that you experience when you are in denial.
Part 2: Identify Blockages – As easy as summoning your inner energy may sound it is not that easy. There are many factors which will block you from being able to achieve that goal. These are all in your mind, and therefore you will need to ask your subconscious mind which things you will need to work on. Then you will have to interpret your own body language which provides the major clues for your healing.
Your subconscious mind is programmed from the data it has received since your childhood. Using that data, the subconscious mind controls your life by creating a set of rules with which you live by. Your body also tries to communicate with through symptoms that sometimes you might ignore.
The symptoms and cues your body sends you are a reflection of what is going on internally and emotionally. In this part of the book, Amy provides techniques through which you can communicate with your subconscious mind.
You should always pay attention to what your body is telling you. "Even though I don't have any long-term health issues anymore, I still interpret any temporary symptoms that arise for me. Is this headache that just popped up trying to get my attention?
Does my tummy feel queasy because of something I'm not stopping to deal with? By becoming aware of this connection, I know I will never again get to a place of oh my goodness, how did this horrible condition completely sneak in and take over my life?"
Part 3: Change Your Relationship with Stress – in this chapter, Amy presents four ways in which you can relieve yourself off of stress, and she introduces seven techniques you can use to achieve this. The four areas that you should focus on to change your relationship with stress are;
Unprocessed experiences – here you are taught how to clear old experiences from your body so you can release those old feelings and emotions that you had no way to deal with.
Harmful beliefs – she describes what harmful beliefs are, how they hold you back from healing and how you can get rid of them from your mind. "Even though your conscious mind is doing everything it can think of to heal, your subconscious mind may be holding what it thinks are excellent reasons not to heal or overcome your challenge. Part of you may see the challenge or illness as an upside or benefit, which is better in some way than being well. This means you perceive there is a benefit to your challenge."
Unhealthy emotional patterns – change unhealthy habits that do not do you any good. The patterns that she discusses here include; negative self-talk, draining vocabulary, victim mentality, taking things personally and negative thought loops.
Fear – in this chapter Amy describes how you can process experiences and beliefs that cause fear and how you can reprogram your fear response. Fear to her is the greatest reason many are not able to heal themselves.
What I Love About The Book
There are many books about using the power of the mind and summoning inner energy to heal your body. However, this book is proof that mind healing really works because it worked for Amy. It is a book full of lots of wisdom.
Amy has taken her experiences and turned them into one inspirational, informative and actionable book that guides you in three parts on how you too can achieve what took her so long to accomplish. The book also contains the techniques that you can do to be able to calm your mind and summon your inner energies.
Why You Should Read The Book
This book will help you to be able to summon your inner energy so you can attain permanent healing. It also teaches you to love, accept and be yourself no matter what happens.
Costing without positive thinking then you are unable to reach calmness in your mind that allows you to summon the energy within you for proper healing. The book is not only for those suffering from chronic illness but for everyone looking to find themselves, to be free and to be happy.