If you've read any of this blog before, you know that I am a massive fanboy of both Blinkist and Audible. However, there's plenty more to choose from.
If you're in the market for a book summary app or something similar, then you'll have your work cut out for you. While companies like Blinkist offer excellent solutions, there's also a lot of crap out there.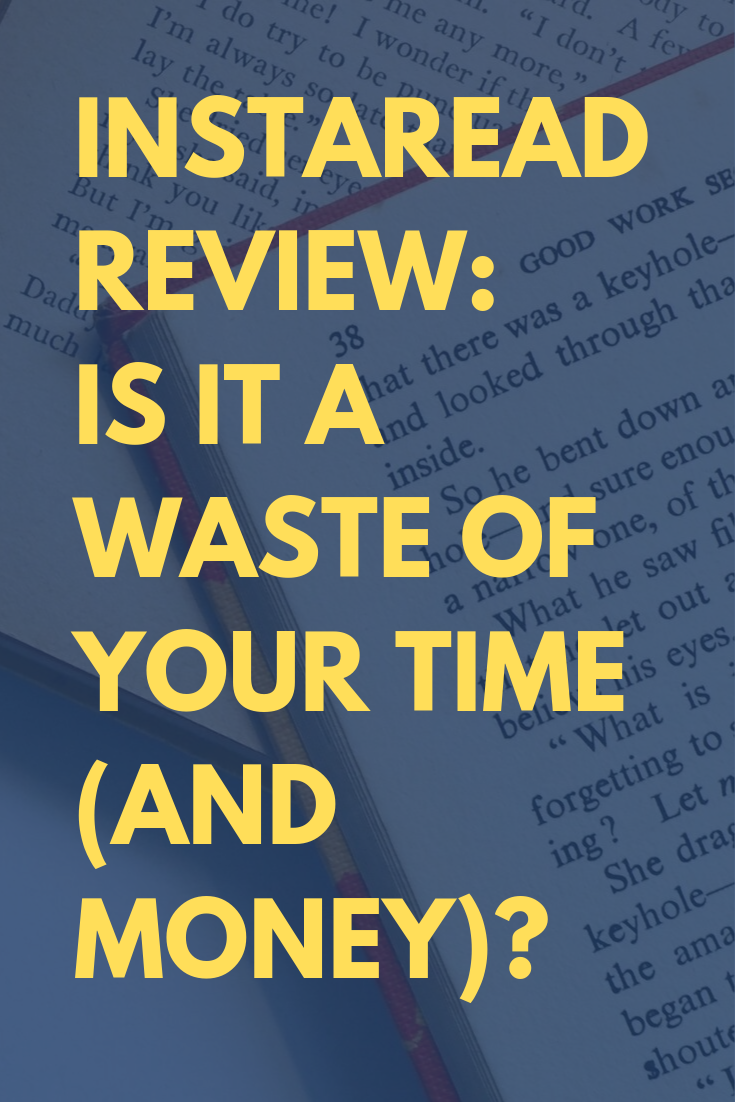 This article will look at Instaread, and see if it is the right solution for you.
Instaread review summary

Effectiveness: ⭐⭐⭐⭐
The book summaries are a good standard, and they even reference the chapters that the 'key insights' are taken from.
Price: ⭐⭐⭐⭐⭐
Instaread is a lot cheaper than some of the alternatives.
Ease of use: ⭐⭐⭐⭐
Instaread is a five-star program if just using the desktop version. However, the app is only available for iOS at the moment.
What we like
Easy-to-use desktop version
Summaries of fiction books, not only nonfiction
'Instaread originals' which cover some core topics
Either read or listen to summaries
What could be improved:
Instaread's app is unavailable on Android at the time of writing
Significantly fewer titles than competitors
Summary: Instaread is probably one of the better solutions for book summaries on the market.
I especially love that they are branching out to more than just business books.
We wrote this review so you'll get all the information you'll need before making a decision.
What is Instaread?
Instaread is a way to learn on the go, or as they claim a way to "get smarter in minutes."
They do this by presenting summaries to a selection of over 700 books, magazine articles, and original pieces.
Each summary can be read in under fifteen minutes or can be listened to audiobook-style.
You may have seen the Instaread name around, as they also offer a range of summaries on Amazon and Kindle.
Try Instaread For Free & Save 30%

Who is Instaread for?
Basically, Instaread is a solution for someone who wants to read but doesn't have the time.
According to studies, the average person reads twelve books a year, but that number is inflated by the sample size studied. The most frequently reported number was 4 books per year, which sounds about right.
The number of readers is decreasing, too; it is just too hard to find the time to dive into a good book.
If you're not reading as much as you'd like to, Instaread summaries can help scratch your itch.
While most book summary sites tend to focus their content to business owners and entrepreneurs, Instaread's messaging and selection of titles suggests they're looking for anyone who is time-poor.
Having said that, if you are a business owner, you can still get some value from Instaread, but may find that alternatives like Blinkist are better for you.
How much does Instaread cost?
Instaread comes in two payment plans, a yearly subscription ($7.99 a month), or a monthly subscription ($8.99 a month).
The price-point is roughly the same as other competitors. Instaread also offers no-lock-in deals, so you have some peace of mind in your purchase.
Regardless, you can try both plans free for seven-days, which is more than enough time to work out if the service is right for you.
Try Instaread For Free & Save 30%
How do I cancel Instaread?
If you do try the seven-day free trial and Instaread isn't for you (or want to cancel at any other time), here are the steps to cancel your Instaread subscription
Click the 'membership' button on your account
Press edit where it shows what plan you're on (monthly or yearly)
You'll go to a screen where you can change membership options, press the link which says 'cancel your membership.'
What's included
Instaread is pretty impressive when you first log in.
The design of the website and app is quite intuitive, so even if you're not a native English speaker, you'll be able to navigate easily.
My eye was instantly drawn to the book covers that Instaread has on their site.
Obviously, being a book summary sire, Instaread isn't allowed to profit using the images of the actual book cover, so they design their own.
Most book summary sites will offer little to no thought in their covers, whereas Instaread's covers are mini works of art! To me, that is a real sign that they're leaving no stone unturned for delivering excellence.
Instaread content
Instaread book summaries
The backbone of the Instaread offering is their selection of book summaries, including, but not limited to, the following genres
Business
Economics
Self Help
History, Political, and Social Science
Health and Fitness
Fiction
Science
Religion
Arts and Entertainment
Sports
Family and Relationships
Biographies
Psychology
Leadership
Diet
Historical Fiction
United States
Medical
Literary Fiction
Romance
Mind, Body, and Spirit
Philosophy
Military
Marketing
Entrepreneurship
Finance
Mystery
Technology
Relationships
Religion
Sociology
Humor
Romance
Each summary can be read or listened to in under fifteen minutes and covers the critical lessons from each book.
The summaries also reference specific chapters that their insights are taken from, which I haven't seen before.
Instaread originals
Along with their book summaries, Instaread offers original pieces which are short-cuts on popular topics.
The originals section of Instaread is growing, and their range of short biographies are the pick of the bunch so far.
Magazines and articles
To me, what really separates Instaread from other services is their selection of magazine articles.
With your subscription, you'll have access to articles from the following hit magazines
New York Times Magazine
Emotion Machine
The Quintessential Mind
Dr. Danenberg
The Bridge Maker
Entrepreneur's Handbook
Try Instaread For Free & Save 30%
The Instaread app review
Instaread comes with a mobile-friendly app for iOS, which makes life a lot easier for users.
The app makes it convenient to use those little pockets of time throughout the day to read a full book summary.
For instance, I tried the app out and was able to read most of a book summary while in line at the grocery store.
If you're an Android user, the app isn't at the quality that the iOS is at the moment. I assume it's because the majority of customers are on iPhones.
Personally, I would be incredibly surprised if Instaread's app continued to only be on iOS in the long-term.
Hell, by the time you read this, there may even be an Android app available.
How to get the most out of Instaread
If you're looking to get the best bang for your buck with Instaread, then there are a few things you should be doing.
For starters, you should 100% take advantage of their magazine articles. Even just by reading the articles alone, your subscription has paid for itself.
Secondly, it is very tempting to go on a 'book binge' with summaries. Sure, while it sounds great to read two or three books a day, you won't be able to get as much out the content you read.
Instead, I suggest reading no more than one book summary a day and reflecting on how that book can help you in your day-to-day.
Furthermore, once you start reading multiple books on the same topic (diet, for example), you'll see a range of opinions. Then in turn, begin to develop your own, informed opinion.
Note: Avoid reading multiple book summaries a day and focus on how you can implement the lessons from the book.
Try Instaread For Free & Save 30%
Instaread alternatives
As mentioned earlier, probably the most significant alternative to Insatread is Blinkist.
Blinkist, like Instaread, offers book summaries in written and audio versions.
It is important to remember though, while Instaread is still growing with over 700 titles, Blinkist is a more established company and has over 3,000 book summaries on offer.
Personally, as a business owner, I find more value in Blinkist as they focus mainly on business books and business owners as a target market.
But, if you're just looking to improve your knowledge generally, then Instaread is an excellent choice.
Try Instaread For Free & Save 30%
Instaread review: Our final thoughts
When it comes to book summaries, Instaread is an excellent solution for anyone that is looking to improve their knowledge and save time on reading.
They may not have as many books as other, more established services, but they are continually adding more.
You can subscribe to Instaread on a 7-day free trial then save 30% to try the service for yourself.