Is AbeBooks legit? This is a pretty common question amongst those who are new to this global book and art store. When you are using this store for the first time, you might worry about the authenticity of the products, whether the site might be distributing content legally, and whether you will get your products delivered in your country. Sellers also often wonder if this is a good platform for marketing unique and rare items.
In this guide, we are going to attempt to answer all of the questions you might have about this popular e-commerce site.
What Is AbeBooks?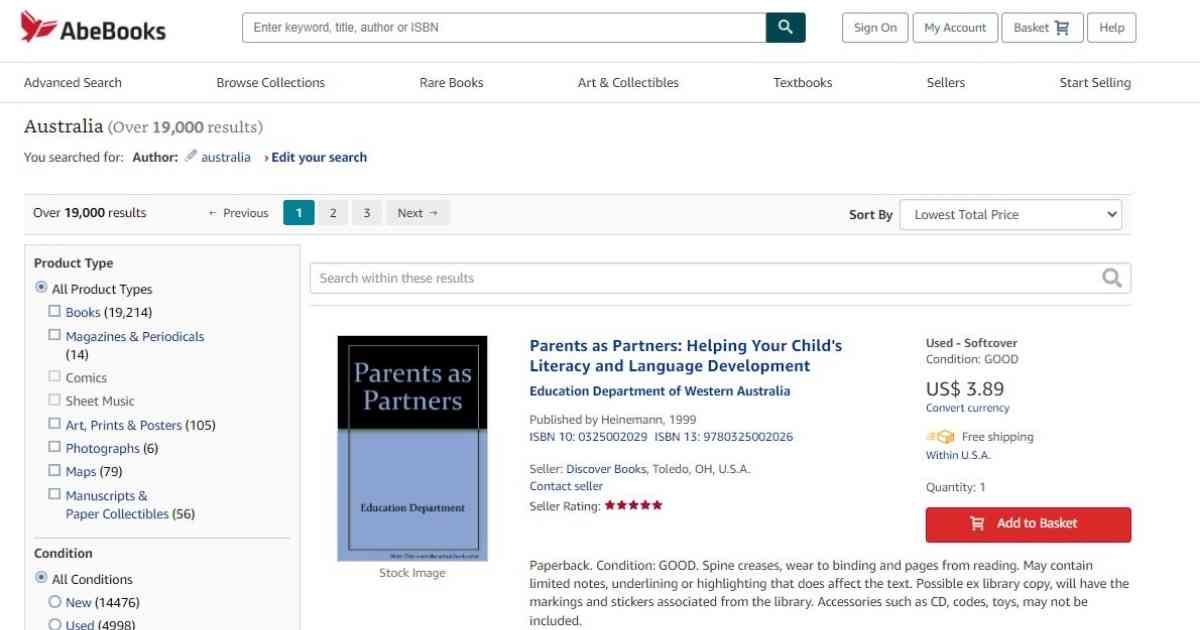 AbeBooks is a global marketplace where you can buy books, textbooks, fine art, and collectibles. The company sources its products from sellers in over 50 different countries and distributes these products worldwide. Independent sellers can create stores and market their goods on this popular platform where just about anyone can purchase these items.
It is a terrific site for those who are looking for rare books, original artworks, rare collectible items and so much more. It is also a great site to use if individuals or libraries want to sell rare items and used books for a good profit.
AbeBooks is a good place to locate affordable products, but you can also find lots of high-end products that are sold at expensive prices.
On this site, you can find just about any type of book, including books that will help you become successful or even books that can help you become a millionaire.
Overall, the website offers buyers or sellers a secure, safe, and convenient way to find products that are often unavailable in their region.
Is AbeBooks Legit?
Yes, AbeBooks is a legitimate website. The company was founded by Rick and Vivian Pura, and Keith and Cathy Waters in 1995. The name AbeBooks is an abbreviation for "Advanced Book Exchange". Originally, this website was developed to only include listings for four bookstores and they only achieved reseller agreements from eBay, Half, Barnes & Noble, BibliOz, and Amazon. These reseller agreements were however dissolved in 2005, after which AbeBooks only renewed a reseller agreement with Amazon.com.
Over the years, AbeBooks acquired quite a few online book marketplaces and gradually expanded its market to include items like collectibles and original fine art.
In December 2008, AbeBooks was purchased by Amazon. In 2010 the marketplace once again changed allowing individual sellers to list and distribute their books or products.
AbeBooks' current headquarters are located in Victoria, Canada. They also have offices in other regions like Germany and the e-commerce store features regional websites in various countries like the United States, Spain, the United Kingdom, France, and Germany.
How Does AbeBooks Work?
This online marketplace can be used to buy or sell various brand new or used items in the collectible, book, textbook, and fine art genre.
The current goal of the platform is to connect buyers with professional booksellers from different or specific regions.
This platform features millions of products to choose from. The platform works just like any other e-commerce store. You can easily shop from their vast range of products. When you find what you are looking for, you can buy the product directly from the site. The bookseller will then ship the item to you, and the website will take care of all other duties like administrative processes or commission payouts towards the seller.
Sellers also find AbeBooks very simple to use. It is very easy to sign up with the platform and you can instantly start marketing and selling your products. Once your products are uploaded onto the site, any user will be able to locate and purchase these items. The site will allocate the correct funds towards your account, but individual sellers will be responsible for packaging and shipping goods to the buyer.
Advantages of AbeBooks
Millions of people use AbeBooks because it offers a great many benefits. Here is a quick look at the main advantages of this popular online store.
Easy to Locate Products
Buyers can easily locate specific books, artworks, or collectibles by entering keywords into search boxes. At the top of the home page, you can search just about anything located on the site. If you wish to buy from independent sellers, you can also enter details like author name, title, or ISBN in another tab found on the home page.
After entering the keyword, your screen will be flooded with relevant products and you can also refine your search by selecting certain categories from a tab.
The home page also features additional tabs like Advanced Search, Browse Collections, Rare Books, Art & Collectibles, Textbooks, Sellers or Start Selling. These tabs are convenient for guiding you towards specific product types so you can browse their goods.
Worry-free Purchases
All products sold on the platform are shipped directly from the bookseller as soon as the purchase is completed. AbeBooks also uses various verified payment options and accepts Visa, MasterCard, American Express, and PayPal or direct transfer.
Product Guarantee
There is a product guarantee on all products and you will be able to determine the condition of each product by its description.
You Can Get a Refund
Buyers are eligible for a refund should the product not meet their expectations. The terms of refund may vary for different products and sellers.
Secure Shopping
The site offers a secure shopping experience. All sensitive information is secured at all times and information like addresses, names, or contact numbers are only revealed to sellers after the purchase has been made.
Convenient Selling
The platform is convenient for sellers who want to sell books, rare items, art, or collectibles. Their shipping and payment methods automize most of the selling processes, leaving you with very little to tend to from your side.
Disadvantages of AbeBooks
With online stores, there are always a couple of drawbacks you should be aware of before you make use of their services. Here are the top disadvantages that you might have to deal with when using AbeBooks.
High Seller Commission Fee
Sellers are charged a pretty steep commission rate for every sale they make. As a seller, you need to pay AbeBooks 13.5% of every sale you make in addition to their monthly membership fee. Sellers are also required to pay an additional 5.5% processing fee for every sale they make.
Customer Service Can Lack
Some buyers and sellers feel that the communication between AbeBooks and buyers or sellers could have been better. Tracking numbers and business day issues are some of the most common queries.
AbeBooks FAQs
As a new user, you might have quite a few additional questions regarding this platform. Here is a quick look at the most frequently asked questions other users had when trying this virtual store.
Is AbeBooks Owned by Amazon?
Yes, AbeBooks is the property of Amazon.com. You could acquire goods from Amazon through AbeBooks before Amazon purchased the company because they offered reseller agreements that allowed the site to resell various products on their platform. Amazon purchased AbeBooks in December 2008 and has since been the sole owner of the company.
How Reliable is AbeBooks?
The online store is reliable for the greater part. You can find authentic products and the site is secure enough to prevent fraud or identity theft.
As with any other online store that allows sellers to market individual products, there is always a risk of getting scammed.
The best way to avoid scams or sales issues is by checking the seller ratings before you acquire products from the store and avoid sellers that don't have any ratings.
Is AbeBooks Legit? Final Thoughts
So, is AbeBooks legit? Yes, it is a very legit store that thousands of people use to locate books that are out of print and available at an affordable price, or to find rare items. It should be noted that there can be potential fraudsters on the site since just about anyone can use the platform to distribute goods.
AbeBooks does however make it pretty easy to find legitimate sellers and products. As a whole, the platform offers a user-friendly, convenient interface which contributes to its popularity.
We hope that this guide helped answer some of the questions you might have about AbeBooks. If you are looking for other great sites where you can purchase books, you should have a look at some of the other guides we have on Book Summary Club. With our site, you can find the best reads and get all the best reading tips.