So, did you start reading again this year? Reading is one of the most important things we can do. Whether it is to learn, to heal, to motivate or even just to escape for a little while, reading is the answer. With the development of ebooks and audiobooks, access to books has become even easier. We can utilise the time that would be otherwise wasted during our commute or wait at the doctor's office. Now the only thing you have to worry about is which Kindle to choose. That's why in this article, we take a look at the Kindle 8GB vs 32GB. Hopefully, it will give you a better understanding of how many books it can hold and more.
Benefits of owning a Kindle
Let me first say, nothing beats the smell of a book and turning pages with your fingers, I'm not against it by any means – but a Kindle brings so much more to the table. Literally. 
You can have multiple books stored on it if you like to read more than one book at a time.
It saves space if you have a small apartment
Convenient and immediate access at any time
It eases eye strain as it is front lit and has an easily adjustable display
The font size can be adjusted
Kindle books are cheaper than printed books (which is great for students who need to purchase textbooks by the way!)
You will come across self-published authors that you would not see in a bookstore
Long battery life – you can go weeks before you have to charge your Kindle again
Your reading life will change drastically once you purchase a Kindle. Most people who love to read swear by it and carry it around with them everywhere because it is small, lightweight and easy to store. 
Let's take a look at how much it actually stores.
How many books can 8GB Kindle hold?
An 8GB Kindle has 6GB available to the user (2GB is for system files). Amazon does not give a clear number as to how may eBooks this will hold except for saying "thousands". The actual amount depends on the type of content that will be downloaded onto the device. 
Plain text documents and eBooks will take less space. An average Kindle book is only 2-3MB, so even with 6GB of available storage, you could possibly have 2000-3000 books on your device! Even if you read a book a day that would take you almost 8 years to complete! If you have comic books, graphic novels or PDFs with a lot of images though, this will take up more space than plain text.
Also, if you more of an audiobook person, audio files take up more space on the device. An 8GB Kindle can hold up to 35 audiobooks depending on the length and quality of the audio file.
Top Features:
The newest/most popular version!
8GB – Enough for 99% of users
6.8″ Backlit Display
Fast charging time.
No ads
Weeks of battery life
How many books can 32GB Kindle hold?
Given the above info for the 8GB Kindle, you should realise that a 32GB Kindle is for people who truly read and listen to a huge amount of books. Even though the 32GB Kindle sees about 5GB of storage going to system files, that leaves the user with 27GB available! That's a little over 4x more than what you get from the 8GB Kindle. This works out to a whopping 9000 – 13500 ebooks and 150 audiobooks! 
So, you can see that the storage you choose is just dependent on your preference. 
Now that we've discussed how many books the Kindle 8GB and 32GB can hold, let's take a look at the different content types to further narrow down which one will work for you.
Types of Content to consider when purchasing a Kindle
eBooks 
Both eBooks and audiobooks have tremendous advantages for people who love to read. 
You can have multiple books on a single device and don't have to worry about space in your bag or your home. 
It's environmentally friendly if you think about it, as no paper is used
It's actually cheaper (no printing, packaging or delivery costs) and
The greatest advantage by far is that you can access it anywhere meaning that it's possible for you to read wherever and whenever you want to!
Audiobooks
Audiobooks have the added advantage of allowing you to multitask. You can listen to a book whilst travelling, working out at the gym or even whilst doing your grocery shopping. 
In addition to improving your listening and focus skills, audiobooks can also help with your pronunciation and fluency as you listen to someone else read the book. This makes it a great option for children or even if you're trying to learn a new language. And although narrators can make or break your book experience, companies like Audible take special care when choosing their narrators to ensure you stay engaged.
Comic Books and Graphic Novels
If you didn't know you could get this on your Kindle too, you're not alone. Many people forget that comic books and graphic novels are a huge part of the eBook and audiobook world. Sure, you might only be able to view them in grayscale but that does not make it any less enjoyable. 
The only thing to consider here is that because of the images, this type of content takes up more space than straightforward text only. However, that doesn't by any way mean that you still won't have enough storage. Comic books range between 650MB and 1.4GB, so you should still get a fair number (between 4 and 9 depending on the size). Once again, it all depends on fast you read and how many you want on your device at any given time. The 32GB Kindle will allow between 19 and 40 comic books. 
PDF Documents
Yes, you can read your PDF documents on Kindle as well. Although, not usually recommended as you will not be able to adjust the font size as you would normal text. You have to zoom in and out to view the document at different sizes. It's unclear how many PDF documents you can store on a Kindle, however, it does take up more space than a normal text file. Also, as with the comic books, if the PDF contains large quantities of images and/or graphs, it will take up more of your storage space.
So, now you have a better idea of how many books and 8GB kindle will hold vs. a 32GB Kindle. I've also described the type of content in detail so you can judge which you use more off and which one will take up more storage space on your device. 
The 32GB Kindle is obviously geared more for people who listen to audiobooks as these take up more space. There are, however, two more aspects which we must not forget.
You do not have to keep all your books downloaded on your device at all times
You have unlimited storage available for Kindle books in your account. Your device just needs to hold the books you are currently reading/listening to. Once you are done with a book, you can delete it from your device which frees up space for your next download. If you want to re-read a book, all you have to do is download it again from your library. Easy!
A Kindle is not a tablet or computer
I'm pointing this out purely because sometimes we think that more is necessary. 8GB or even 32GB for that matter seems like such low storage options for our phones or computers. That would not be enough for a teenager's selfies these days! We also have to consider apps, media, documents, software; all of which uses massive amounts of storage. A Kindle has none of these capabilities, it is purely for your reading pleasure. If you want to use a tablet for reading ebooks or your comic books in colour, check out our article on the Best Tablets for reading.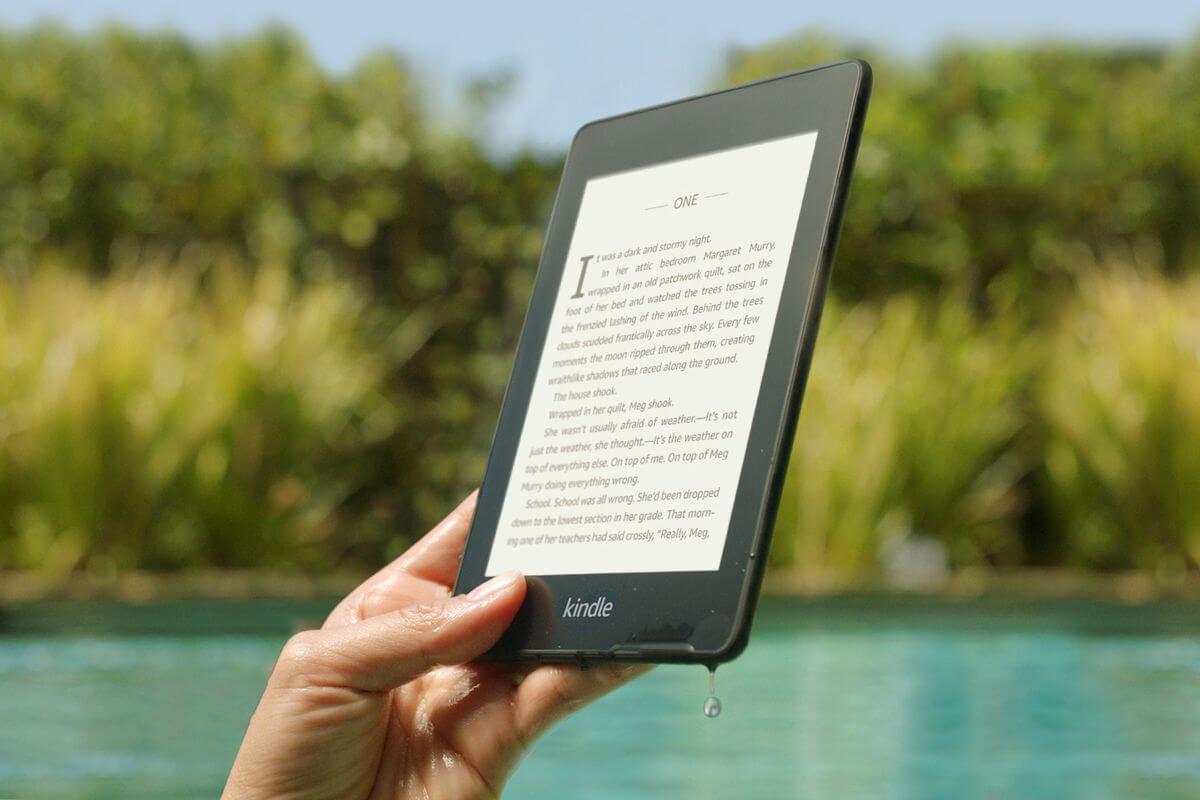 Kindle 8GB vs 32GB – Price difference
For both the Kindle Oasis and Kindle Paperwhite, you're looking at about a $30 difference between the 8GB and 32GB options. So, consider what suits your pocket as well.
In conclusion, if you are an avid reader, a Kindle eReader is definitely the way to go. Both versions will allow you to store thousands of ebooks for you to read. A 32GB Kindle is for the real enthusiasts who want to be able to access large audiobook files or books with a lot of images. Just remember though, no matter how many books you download onto your Kindle, you will always have your books in your account library, they won't disappear if they're not on your device! Hope this article gave you enough information to decide. Good luck and Happy reading!