The lowdown: Learn how to market and promote your first book to make early sales with this Your First 1000 Copies summary.
Writing a book is never an easy task. However, it is a great tool for your business to raise authority and more importantly, generate leads.
*Not so subtle plug for my book writing service here.*
However, if you're looking at writing and publishing a book, writing the thing is almost the easy part!
There are millions of books out on Amazon and plenty get released every day. This competition means that without the right strategy your book will more than likely become a drop in the ocean.
If the purpose of your book is to sell copies and develop an army of loyal readers, then getting your book sold early is key.
In Your First 1000 Copies, you'll learn how to market your first book.
SALE
The three main lessons from the book are:
Create a marketing blueprint
It is best to start with an email list of potential buyers
When it comes time to sell your book, don't be shy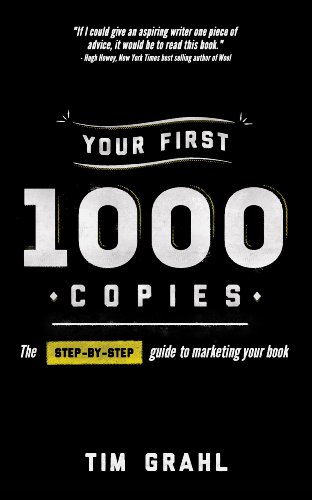 Lesson One: Create a marketing blueprint
The number of ways you can market a book is overwhelming to say the least. Without even giving it too much thought, here are a few options:
Facebook
Amazon
Bing Ads
Google ads
Sponsorship
Twitter Ads
Email
Landing pages
Blogs
Podcasts
YouTube
So, how do you know what to use?
The key is to have a marketing plan.
A marketing plan is centered around a goal for your marketing, and deciding on the tools and messaging needed to get to that goal.
For example, if you do want to become an author or turn book sales into a main revenue stream, you'll need to engage with readers between books.
Once you know your goal and your target market, you need to decide on the tools that best fit that goal.
Lesson Two: It is best to start with an email list of potential buyers
By now, you've probably heard of the obvious benefits of keeping an email list.
However, if you haven't, I'll quickly go over it here.
Generating a list of your ideal prospect's emails is the most effective marketing tool around if you know how to use it.
Start by giving your ideal prospects a reason to give you their email list (a free giveaway on your blog/podcast/social media) and don't give them a reason to leave.
Offer your email list constant valuable and educational content and they'll stick around.
This email list will act as a ready-to-go audience for your book.
Look at Ramit Sethi for example. Ramit published his first book, I Will Teach You To Be Rich, he did so without PR or any media exposure.
However, he did have a huge email list to market to, which turned his book into a New York Times bestseller.
Now, you may not make the NYT lists, but having an email list should give you some early sales.
Lesson Three: When it comes time to sell your book, don't be shy
After you've built the email list and written the book, it is time to publish.
However, many skimp out on the pitch and don't give their book the best chance at success.
If you have an engaged email list of podcast listener-ship, offer them something to get excited about the release.
Free chapters
Early copies of the book to read for free
Give the first 10% for free
Ask for subscriber input
These methods will engage your audience and get them to buy.
Also, don't just write one email and put your feet up. You need to sell your book.
Mention it in all of your marketing channels. Instead of sending one email about the book, send one or two a week.
By engaging your audience and building hype about the book, you will make more and faster sales.
My Personal Takeaway
As someone who has written a few books, this title didn't give me too much that didn't already know.
I do like the idea of giving away more and more freebies though. That is something that I didn't do with my first title.
Put it into action
When you're creating content, there are always parts that don't make the cut.
It could be some research, or a few quotes, or even a few paragraphs that didn't fit.
Rather than delete this, share it with your audience. It almost has that 'watching the deleted scenes' feel to it.
Little things like this will keep engagement levels high with your email group.
You should consider buying this book if…
Anybody who is looking to write books as a stream of income.