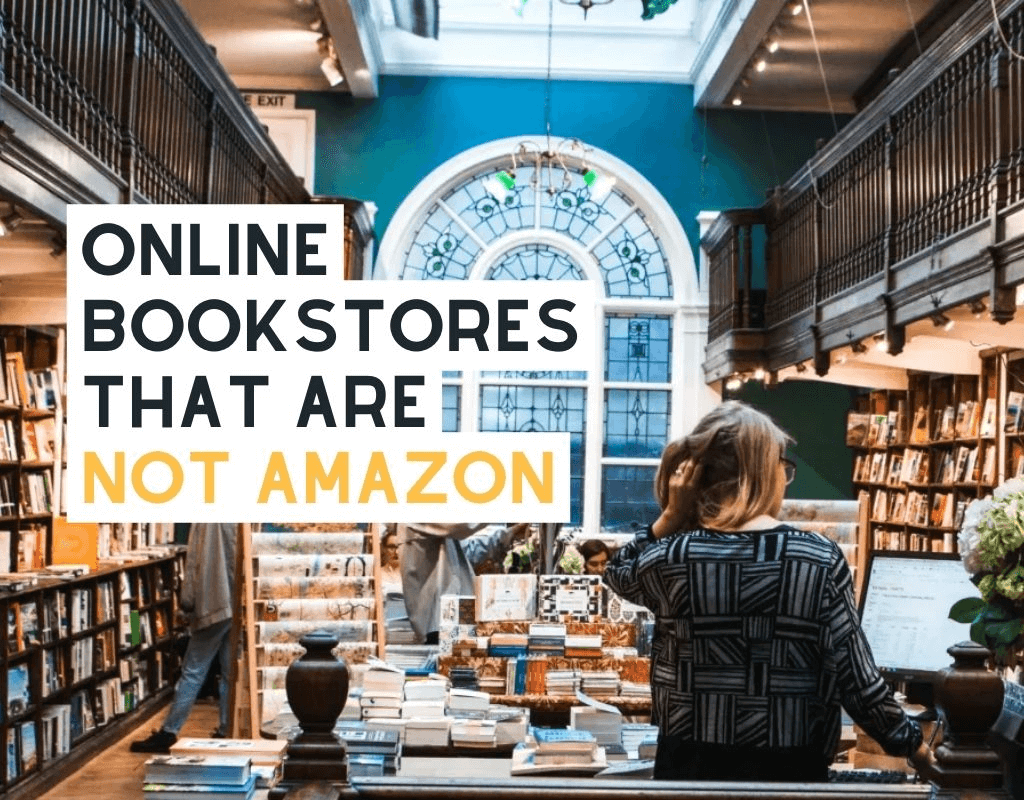 Are you looking for the best alternatives to Amazon for digital books? Do you want to support independent bookstores, local businesses, and a local library by buying offline and online books? Then this article will be of great benefit to you.
From larger bookstores online to e-commerce sites where readers can support independent booksellers and the best places to support sustainability and acquire used books, here are top sites to consider shopping for popular books that aren't Amazon.
Alternatives To Amazon
If you're looking for Amazon alternatives to purchase books online or want to support specific local bookstores, the Bookshop is one of the top options. Bookshop is an online bookstore that strives to support independent and local bookstores financially. Bookshop.org gives 10%-30% of each sale to every independent bookshop.
Choose a specific bookstore you want to support, and the bookstore will get the whole percentage of the books you buy. So, it's worth shopping at this online bookstore if you're looking for Amazon alternatives to spend money on books. Additionally, bookshop.org is 100% carbon neutral.
2. Better World Books.
This online book retailer is another perfect alternative for buying books online and not from Amazon; it is also a better place if you need used books.
Shopping for online books at this online bookstore has many advantages, like keeping used books in circulation, saving all books from going into landfills, and supporting learning and reading through volunteer efforts, special projects, and funding world books literacy grants, which all bring literacy to local communities.
This platform aims to assist those who supply and share knowledge with those craving it. Thus, whenever you buy online books here, know that you're not only buying books you want, but you're also making a huge difference in the world.
3. Thrift Books.
If you're looking for second-hand books, thrift books is one of the best place to visit. Not only does it allow you to find new releases of books you're interested in, but it also carries best sellers.
Thrift Books has extensive collections of books that encompass different topics and genres, as well as a separate section for music, TV and movies, and video games. It also has a running blog that covers reading-related topics, trending topics in new releases, and current events.
Supporting this site not only saves millions of books from being destroyed, it also supports social causes; thrift books donate titles to schools, literary programs, and prisons; these books are getting a second life at bringing knowledge and joy to people.
4. Libro. Fm.
This site is another alternative dedicated to supporting online bookstores, but they do theirs through audiobooks. Libro. FM offers monthly memberships that equal one audiobook credit, making it easy for avid listeners to enjoy their reading list.
This platform also has an option for non-listeners called "a la carte"- allowing you to buy as you go. Although it's a small business, it is also dedicated to supporting other smaller companies. Aside from functioning as a business, it also aims to enact social change by using technology to increase book access.
Libro. FM diversity, inclusion, and equity practices show up on their site through AAPI audiobook references and their blogs, which also cover topics like AAPI-owned bookstores and author interviews that feature authors from various backgrounds.
5. Powell's Books.
This platform is a good Amazon alternative, especially if you're looking for independent bookstores to support. Of course, if there's any independent bookstore around you, they should be your first choice to help. Powell's Books is located in Portland, Oregon, and is among the world's largest independent bookstore.
Aside from their local presence, they similarly have an online store where they sell rare, new and used books to people worldwide.
6. Book Outlet.
This online bookstore is for those interested in a more unusual site to purchase books that aren't from Amazon. Book outlet stocks books that are surplus store and inventory returns, meaning they can offer up to 85% off the original price.
The books in this online bookstore are all brand new, but, in some cases, there are small lines or dots on the edge of a book to signify that it's a discounted title. Although they have an extensive selection of books, there's no guarantee that every book you choose will be available whenever you want it. Thus, you must constantly check the platform for new arrivals and releases.
7. Wordery.
It is one of the fastest-growing independent online book retailers and a perfect alternative to Amazon. It was founded in 2012 by a British book wholesaler and a former book depository IT director- Betrams and Will Jones. Wordery offers over 10 million different book titles, so you are sure to find whatever book you are looking for.
They stock up every range of genres in the non-fiction, fiction, children's range, and an excellent graphic novel section and also offer a 30% discount off sale books.
One primary reason why it's a significant alternative to Amazon is that their books arrive pretty quickly and come with free worldwide delivery- what can be better than that?
Their various payment method includes – MasterCard debit or credit cards, visa debit/credit cards, PayPal, or Solo.
8. Hive.
This platform has similar operations to bookshop.org and supports local bookshops they have partnered with. After purchasing any book on this platform, you can choose which local bookshop gets the proceeds from the book you've purchased; it automatically recommends three bookstores closest to you.
Hive stands out from the rest through the availability of eBooks; if you've ever wondered how to avoid Amazon by downloading digital books, the Hive is your best bet. They've got many cheap deals and new releases, and the prices are the same as Amazon.
Before reading any book on Hive, you'll have to download the digital editions of Adobe, which are available on your Android, iOS, and other mobile devices.
Once you purchase a book from Hive, you'll receive a download link that you'll have to open through the Adobe digital editions, and then voila, your book will appear on your screen.
9. Waterstones.
This platform is one of Amazon's biggest competitors in the UK. Waterstones has all the books you can think of; if you find it challenging to find a particular book elsewhere, Waterstones is sure to have it in stock. One significant benefit of this platform is the exclusive covers and editions of books and even copies signed by the authors.
If you want to pre-order your books on the same day it's released and ensure they arrive that same day, Waterstones is your go-to. Also, they sell accessories for all kinds of books like book covers, games, stationaries, and many more.
10. Books etc.
This book display website is also a superb Amazon alternative. Books, etc., have a broad selection of books in genres and subgenres. One notable fact about this platform is that it helps showcase lesser-known authors and their titles. This website layout has many publishers on the left side of the home page, making it super easy to see and support specific authors and publishers.
Also, Books, etc., has a section dedicated to Tolkien fans called "The Tolkien Collections"; it has a vast range of Tolkien's most famous and obscure works. Book prices are decent and on par with options like Hive Books and Wordery. An additional bonus is that delivery is free for those in the UK.
11. Books-A-Million.
Also called BAM!, books-a-million is a good option when looking for alternatives to Amazon. Founded in 1917 as a street corner stand, it has since expanded to become the largest online book retailer in the US.
With over 260 stores in 32 states of the US, you can be guaranteed that BAM! has the book you're looking for, and this is made easy with their easy-to-use.'
12. Barnes And Nobles.
This online book retailer platform is another great place to purchase books that Amazons. Because they are the world's largest online bookseller, you can find any book of your choice whenever you visit their website to shop for books.
You can also buy most titles in hardcover and paperback form or ebook. Aside from their massive selection of books and ebooks, they also offer collectibles, newspaper and magazine subscriptions, DVDs, hobby items, and Blu-ray discs.
13. Alibris.
This website is one of the promising Amazon alternatives to purchasing online books. It is an online marketplace for out-of-print books, used books, rentals, textbooks, etc.
The principal purpose of Alibris is to help all independent sellers find reliable buyers through their marketplace; whenever you purchase books from this platform, you support smaller businesses and independent sellers rather than Amazon.
Alibris has loads of books for you to browse, so it's guaranteed you can find a used book in good condition, which is an excellent option if you want to buy used books.
On A Final Note;
These online bookstores listed here are the best Amazon alternatives; whether you're looking for bookstores that offer rare and used books, audiobooks, paperback, books from favorite authors, eBooks, or hardcover, one of these online platforms will positively impact your reading goals.