Trying to relax and have a breath of fresh air despite the chaos and different troubles going on around us today can be pretty challenging. Accepting our uncomfortable feelings and not giving them room to ruin our happiness and mental health, thereby striving to live in the present, is not always an easy thing to do. 
The truth is that we mostly get confused about how to go about these things. So, if you find yourself in a situation like this and you're seeking help to handle the moments in your life, practicing mindfulness through reading books on mindfulness might just be all you need.
We've taken our time to conduct comprehensive research on books on mindfulness by not just anyhow authors but best-sellers authors to help you achieve your aim of mindfulness practice. Practicing Mindfulness can be challenging but very important in our everyday life. 
So, whether you are looking for how to deal with stress that comes with everyday life activities, or you desire to learn more of the science behind mindfulness, or how to practice mindfulness, these best books on mindfulness should be your go-to. Let's dive into it right away!
Why Books On Mindfulness?
Mindfulness is the ancient Buddhist practice that is becoming increasingly important in today's fast-paced, technologically advanced world. Books about mindfulness provide a helpful tool for growing psychological health and attaining calmness and real happiness in this present time as an individual. 
It offers you relief from stress, worry, and the never-ending barrage of information found everywhere both on the internet space. Books on mindfulness also provide an in-depth overview of mindfulness-based stress reduction. 
Also, they provide readers with an understanding of the fundamental ideas and methods that drive mindfulness and show them how to use it in their everyday lives.
Furthermore, mindfulness requires conscious focus on what is happening without connecting to past or future thoughts or feelings. 
These Books serve as daily practical guides, providing you with detailed instructions, exercises, and helpful advice on how to build mindfulness and use it in a variety of situations.
Now, let's take a close look at some books on mindfulness that can also help improve mental health and find the stability you should include in your library below:
A Year Of Mindfulness By Jennifer Raye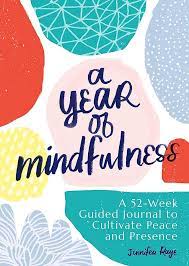 >> Click here to learn more about the book on Amazon <<
If you want to search for books on mindfulness to read online and offline, you should consider "A Year of Mindfulness" By Jennifer Raye. It is a mindfulness book aimed at teaching beginners what mindfulness and living a peaceful life is at the beginning of their journey. It was written by Jennifer Raye, one of the best self-help book authors.
The book contains weekly themes that give readers a particular place to begin, more like an outline that helps them focus on a specific aspect of the book each week. A Year of Mindfulness By Jennifer Raye also teaches you to take care of your body, mind, and soul and admire the positive things in your life.
It also teaches readers how vital writing about things around your life is daily. This book teaches you how to begin your mindfulness practice journey. Jennifer ensured that the book is self-explanatory and resonates with everyday life happenings and that newbies understand its teachings.
Why We Meditate: The Science and Practice of Clarity and Compassion By Daniel Goleman & Tsoknyi Rinpoche 
>> Click here to learn more about the book on Amazon <<
"Why We Meditate: The Science and Practice of Clarity and Compassion" is a book on mindfulness written years back by two renowned Authors, Tsoknyi Rinpoche, and Daniel Goleman. The book is connected to numerous spiritual and religious traditions. 
Due to the author's teachings on meditation and its psychological and physical advantages, it has become popular outside of religious and spiritual contexts. 
In this book, the term "clarity" talks about the mental state of being focused and clear. It's about readers building mental clarity by honing their focus and understanding through frequent meditation practice books that encourage them to adopt meditation techniques like focused attention and mindfulness. 
Tsoknyi Rinpoche and Daniel Goleman teach that concentrating on something with focused attention can, over time, reduce mental distractions and improve cognitive abilities. You should order this book if you want to learn mindfulness techniques.
The Miracle Of Mindfulness By Thich Nhat Hanh
>> Click here to learn more about the book on Amazon <<
One of the most well-known and significant books on mindfulness and meditation is "The Miracle of Mindfulness," written by Thich Nhat Hanh and published in 1975. 
It provides clear instructions along with knowledge of the practice of mindfulness meditation and its transforming ability to develop awareness and concentration in an individual's everyday life.
The book is a must-have classic mindfulness and meditation book. The teachings on mindfulness in "The Miracle of Mindfulness" are practical and understandable, giving readers easy methods for incorporating mindfulness into their daily life.
Also, the book focuses on cultivating mindfulness in all areas of our lives and being fully present in the moment. Thich Nhat Hanh provides readers with meditation techniques, personal anecdotes, and insights in this book to aid in exploring mindfulness exercises. 
He went further to explore the multiple aspects of mindfulness, which include receptive walking, eating, breathing exercises, and communication. The Author also provided tips on incorporating mindfulness into our interpersonal interactions and daily routines.
Mindfulness for Beginners By Jon Kabat-Zinn Ph.D
Reclaiming the Present Moment and Your Life
>> Click here to learn more about the book on Amazon <<
"Mindfulness For Beginners" is a self-help book written by a well-known mindfulness teacher and researcher, Jon Kabat-Zinn, Ph.D., The book teaches about The practice of mindfulness, which entails being fully present in what is happening without passing judgment. 
It involves developing a non-reactive awareness of the thoughts, feelings, and sensations that surface in our experience. By practicing being present, readers can improve their clarity, serenity, and understanding of both the inside and outside of themselves.
One of the significant contributors to the acceptance of mindfulness in contemporary Western society is Jon Kabat-Zinn. The book also teaches how to reduce stress, adopt meditation practice and mindfulness exercises and find peace in this modern world. It's a must-have practical guide to mindfulness.
Mindfulness Willpower By Samara Serotkin
>> Click here to learn more about the book on Amazon <<
If you're hunting for a book to read that will change many things in your life and help you find peace, Mindfulness Willpower should be your go-to. Samara Serotkin published this book to show avid readers of self-help books how to develop willpower, which is a precious and crucial talent to have in this modern world. 
This book focuses on the various techniques needed to increase willpower and boost the understanding of your environment. Furthermore, it helps you focus, clear your mind, and helps you in reaching your set goals, like cutting back on the time you spend on devices, saving money, and always being organized.
It offers evidence-based guidance supported by data from psychology and science. Other than controlling impulses, this book also teaches you how to stop procrastination. It's challenging to make significant, lasting changes to your habits, but "Mindfulness Willpower" can show you the simple ways to actualize that. 
This simple, practical guide by Samara Serotkin will help you reclaim your self-control with mindfulness-based cognitive therapy. It's a must-have book for practicing mindfulness and meditation.
"A Path with Heart" By Jack Kornfield
>> Click here to learn more about the book on Amazon <<
A Guide Through the Perils and Promises of Spiritual Life 
Jack Kornfield is a well-known Buddhist teacher, psychologist, and author. He published "A Path with Heart: A Guide Through the Perils and Promises of Spiritual Life" in 1993. This book has become a well-known and significant work in mindfulness and spiritual practice.
In "A Path with Heart," Jack Kornfield teaches readers looking to begin a spiritual journey or develop an existing spiritual practice the best ways to go about it. 
In addition, the book explores many characteristics of the spiritual path, such as awareness, kindness, compassion, forgiveness, and potential roadblocks.
Monk Kornfield draws knowledge from his life experiences and studies with well-known meditation philosophers from many religious traditions. 
He also offers a thorough and practical strategy book for spiritual searchers by fusing personal experiences, helpful, practical exercises, and deep insights from diverse spiritual traditions. A Part With Heart is highly recommended if you want to read an in-depth mindfulness book.
"The Power of Now" By Eckhart Tolle
A Guide to Spiritual Enlightenment!
>> Click here to learn more about the book on Amazon <<
Eckhart Tolle is the author of the best-selling mindfulness book "The Power of Now." Since its initial publication in 1997, it has received much praise and popularity. The book emphasizes the value of mindfulness practice in achieving spiritual awakening and present-moment life.
The author and spiritual teacher Eckhart Tolle makes his teaching style in "The Power of Now" understandable and engaging. He examines the idea of the mind and how it frequently causes sadness and dissatisfaction by continuing to think about past or future happenings.
According to Tolle, people can attain a profound sense of calmness and increased consciousness by focusing on the present moment. The book explores some characteristics of the human experience, including the ego, mind, personality, and the meaning of pain. 
Tole gave practical tips on how to overcome the mind's negative impact and develop a condition of mindfulness and awareness. He encourages readers to look at their ideas logically, apart from their egoic selves, and appreciate the peace, real happiness, and calmness within.
Frequently Asked Questions On Books On Mindfulness
What Is Mindfulness-Based Cognitive Therapy?
Mindfulness-Based Cognitive Therapy (MBCT) is a therapeutic approach combining cognitive therapy elements with mindfulness meditation practices. 
It was developed as an intervention specifically for individuals who struggle with recurring episodes of depression, helping them find peace and self-compassion.
What Are Mindfulness Techniques?
Mindfulness techniques help individuals cultivate present-moment awareness, acceptance, and non-judgmental observation of their thoughts, emotions, and sensations. 
What Are The Recommended Mindfulness Techniques?
There are mindfulness techniques, and below are a few of them:
Mindful observation 
Body scan 
Mindful Media Consumption
Mindful walking 
Loving-Kindness Meditation
Mindful breathing 
Mindful eating
How Do I Apply Mindfulness?
If you want to learn how to apply mindfulness, the following steps can't be of immense help:
Start by setting your intentions to be more mindful with things around you 
Focus on your breath as an anchor to the present moment 
Take part in daily tasks mindfully 
Observe your thoughts and emotions fully 
Practice formal meditation 
Cultivate patience and be consistent
Wrapping Up
Finally, if you want to find peace and real happiness, books on mindfulness should be your go-to. In this article, we took our time to research thoroughly and put together books on mindfulness by renowned authors that can help you achieve mindful self  compassion.
Furthermore, you can start practicing mindfulness using any of the books we discussed above. They can help you with your meditation practice through practical exercises and creative exercises. 
Ensure your library is filled with a Kindle edition of the best mindfulness books that helps you build the art of positive affirmations.