Sitting down with a great book allows you to escape into a space in the author's mind and lets you ruminate over ideas that might have never crossed your mind if you hadn't read the book in the first place. 
But while reading a new book on your own is a great way to unwind, sometimes you might want to discuss what you've read with other people. You want to bring those ideologies off the pages and discuss them live. 
So are you searching for a fun way to enjoy books and meet new people? Start a book club!
While a book club looks like a bunch of people gathered together reading books and discussing, there is a lot more to starting a book club than you might think. 
To help you make sure that your book club is done well, here is a guide about how to start a book club to help you make yours in a breeze. 
Let's get into it!
Determine the kind of book club you want to host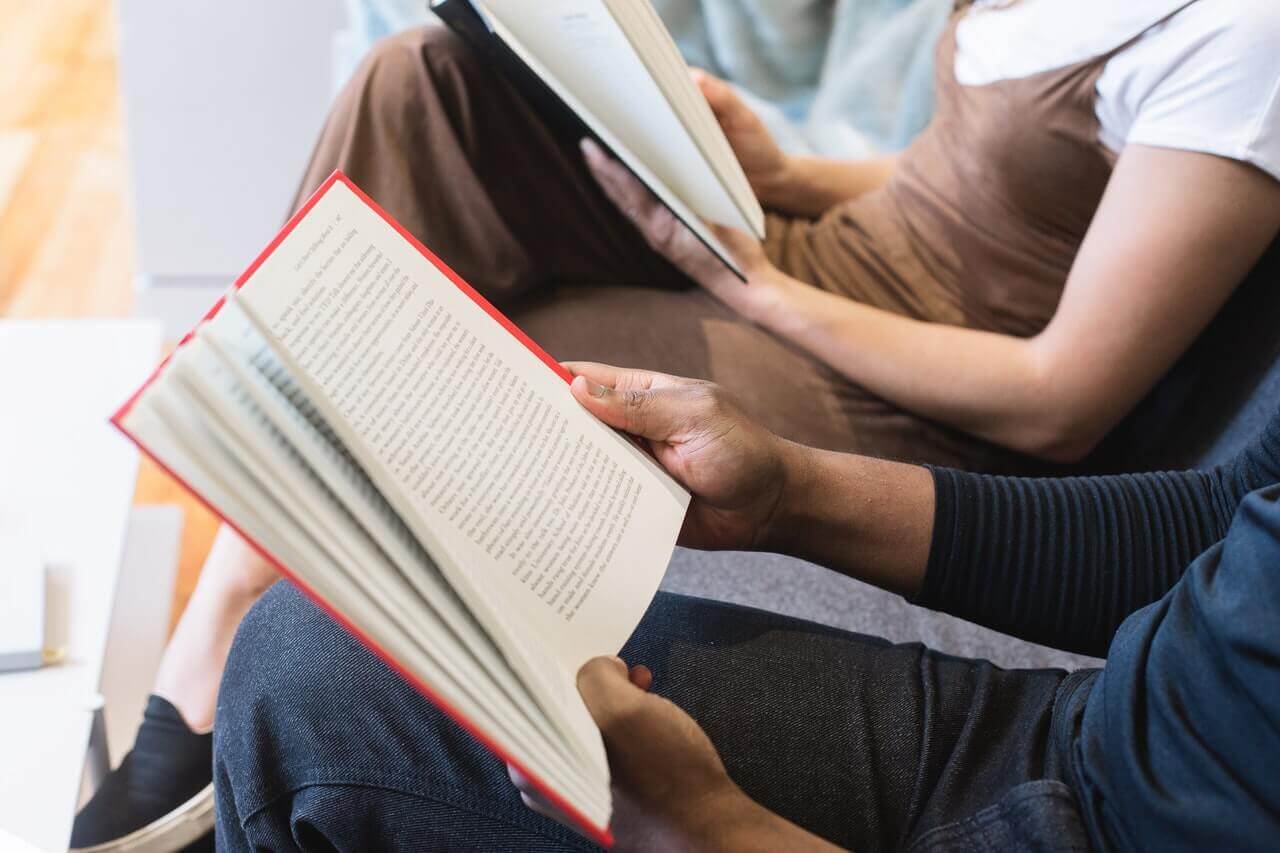 There's no one single type of book club. Book clubs come in different forms. Some book clubs are highly academic, while others are very social. 
Ask yourself what the purpose of starting a book club is. 
Do you want to learn something new? Do you want to bond with colleagues? Or maybe you want to meet new people, catch up with friends, or maybe a mix of some of these elements. 
Maybe you want to start a book club that only reads plays by Shakespeare, or maybe you want to only read books that address social issues. Or you might be open to reading anything and everything. 
Creating a theme can help you make fundamental decisions about your book club, so whatever it is you are focusing on (or not), make sure you know what it is before you move on to the next step.
Figure out who you want to invite 
Whether you want to start a book club for just you and your best friend, or bring together a large group of people, it's important to figure out who you want in your book club. I mean, there's no book club if there are no readers, right? 
Small groups can offer more intimacy and allow you to really get to know and become close friends with your book club members, but bigger gatherings can offer a wide variety of viewpoints and ideas. 
There really is no right or wrong approach to this and it may change as time goes on, but it's important to think about your potential members before you start. This is because the size of your book club will affect the time and place you all can meet. It may even impact the sort of books you'll read.
You should also think about how you will find members. It can be unnerving to find people who are willing to join your book club, but books have a mind-blowing way of connecting people. Below are a few steps you can take to find your book club members:
Start by looking in your circle because it's most likely the place in your life that feels most natural to you.Try reaching out to your closest friends you know that love to read, or the colleagues you like spending time with outside work. You could start with three friends and ask each of them to invite one, two, or even three friends that they have.
Then you can post a notice on the bulletin board of your local bookstore or library. You might even want to talk about it to an acquaintance at the gym or yoga class. If you want to get a range of perspectives from your book club, you should consider looking for people of different ages, genders, ethnicities and nationalities who can bring their diverse worldviews to discussions. 
You could also try social media. Target community and neighborhood boards on social media platforms like Facebook, Twitter and Instagram. 
Decide where your book club will meet
After you know (or have gotten an idea of) the people you expect to join your book club, you need to consider where and when you'll meet. 
Contrary to popular opinion, a book club doesn't need to meet physically. Thanks to the internet, you can hold your book club meetings remotely. Both Goodreads and Facebook allow you to host clubs that can be private or open. 
Some book clubs meet both virtually and physically, either running both online and in-person discussions simultaneously or alternating them. Think about which method will work best for your group. 
If you think it's best that all the members meet physically, then consider how much space you'll need. If the club consists of just yourself and one or two other people, then you have many great options: restaurants, coffee shops, and the most common one, each other's homes. 
Or if your group has five people and more, you might want to use a bookstore, public library or even a bar.
If you're unable to meet each other in-person to discuss your latest read, you can go digital. 
There are three ways you can do this. 
The most common (and probably the best) way is to create a private (or public) Facebook group where your group can easily meet and communicate with one another about discussion topics, upcoming reads, and meetings. 
You can also create an online group on Goodreads that allows you to engage in conversations, notify members of events and keep track of all the books you read.
If you want to be able to see each other, you can use video chat services like Zoom, Google Meet, Skype, etc. all of which allow multi-user calls. 
When it comes to deciding how often your book club will meet, you should consult with the members to determine what's realistic. Take into account their schedule, convenience, preference and the time it will take to complete the book. The rule of thumb, however, is once a month but like I said earlier, it's all up to you (and your club members). 
Decide how you will choose books
By now, you have figured out the kind of book club you want, the people you'll invite, and how you'll meet. The big question now is: What books will you read?
Remember the theme we talked about earlier? That can really help you narrow down your options as to the kind of books you'll read in your book club. 
But you shouldn't make this decision alone. Instead, involve your group in the decision process, because well, the system should ideally be a democracy, not a dictatorship. It's not okay to be the kind of person who doesn't take suggestions and rules their book club with an iron fist.
Some book clubs discuss each choice as a group, while others employ a formal voting process. 
Whatever book you decide, you need to consider the: 
Topic 
Length 
Reading level 
Price 
Availability (paperback, hardcopy, eBook, or audiobook)
Publication date 
… of the book. People's tastes differ (which is great for a book club) and that's why it's important to get everyone's input.
As a rule of thumb, the books you pick should make people become better and increase their productivity. These are generally self-help/motivational books, and they work really well because they allow you to reflect on yourself. They have many entry points for people so they usually have great setting, good pacing, exceptional character development and fitting language. 
But they don't have to just be self-help books. You can explore other niches too, because everyone has a different opinion of what makes a book good. 
Some other great niches include:
Memoirs 
Young adult fiction
You can also decide to focus on one specific author. Whatever path you take is great, so long as it works for you and your club members.
Set group guidelines 
To ensure that your new group is on the same page, discuss what each person wants to get out of club meetings before your first official gathering. Will the time you spend together be used to focus on the novel/book, or will pleasantries and catching up be the most important aspect of the meeting?
There's no harm in having an insightful conversation over som bottles of wine, but not every book club member would want to ditch their novel for a drink. There are some book clubs that consist of "book people " who want to delve into the book and discuss. If your group does not get on the same page about how devoted you want to be to the conversations versus social time (or a blend of both) , there's bound to be some tension. 
Brainstorm discussion questions
Now that you have figured out all the details of starting a book club and everyone is happy with the book you've chosen, you have to figure out what to talk about. 
Even if you have read the book, guiding a book club discussion can be a little unnerving, but it doesn't have to be. The trick is to formulate questions based on your book's genre. 
To ease your way into the specifics, you can start by asking a couple of general questions:
What was your favorite part of the book?
What did you not like about the book?
Were you in a haste to read the end or did you take your time?
What part of the book stuck with you the most?
Are there any standout sentences or quotes?
To get more book-specific questions, you can use resources like Goodreads and Litlovers. You can also read book reviews, book discussions and book summaries. Look through the author's and publisher's websites; some have interesting takes about the books, discussion guides and even the author's answers to popular book club questions.
Wrapping it up 
The thing most people hope to get out of book clubs is a sense of community. In these groups, books are the foundation for that community, but at the end of the day, the success of a book club depends on finding people who share a common interest and making sure that everyone feels included. 
That's why this guide on how to start a book club is important; it shows you the steps necessary to make your book club a success.